Explore,
Record, Share
X5 Evo — A new way of recording and
sharing your cycling experiences
Buy Now
Video with
Data Overlays
With the X5 Evo, you can easily turn your ride footage into personalized, sharable videos. Add meaningful data gauges to show how fast and how insane you went.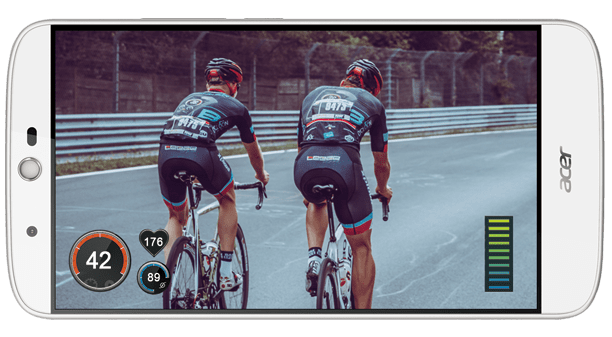 Satisfy All of Your
Recording Needs
Data-Linked Auto Recording
Time-Lapse Recording
Loop Recording (Dash Cam)
AUTO RECORD
Set up auto-record triggers on speed, power, or heart rate, so you can stay focused on pedaling hard, without missing the most exhilarating moment of your life.
TIME LAPSE
Now you can turn hours of cycling footage on road into a few seconds of stunning visual narrative. Make it epic!
DASH CAM
Own your first-hand evidence in case of a car accident.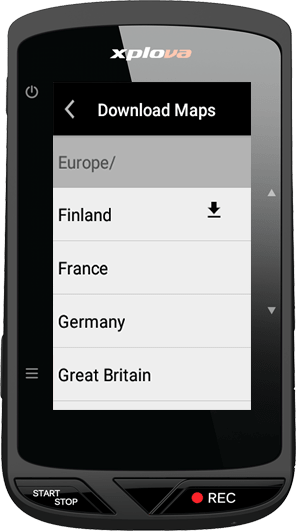 World Cycle Map Available for Free

X5 Evo is fully integrated with free global OSM maps. With Wifi Direct support, downloading fully detailed color OSM maps is super simple and fast via X5 Evo's menus.
You can easily select maps for one or more areas to be downloaded, with nothing more than checking the box for the city/town/region/country that you want.
You no longer need to fiddle with any third party service when you want to use your cycle computer to tour in another country or region.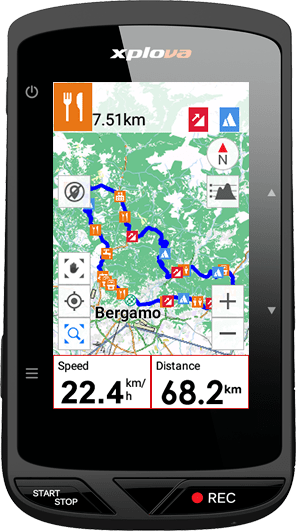 Smart Route Planning and SmartSign Guidance

Based on OSM maps, you can plan your own cycling route by adding SmartSigns, your customized points of interest. You can add climbs, turns, food stops, water, reminders to take nutrition and many more. Start planning your own cycling route now by visiting the Route section on our website!
Built upon the design of SmartSign, X5 Evo provides you with the unique SmartSign Guidance, your cycling buddy. It serves as a reminder of the SmartSigns you had added along the way on your routes. It gives you accurate direction on every junctions during your ride and keeps you alerted with upcoming SmartSigns, such as distance to next rest stop, next slope or climb. It offers a much smoother ride for the adventurous you.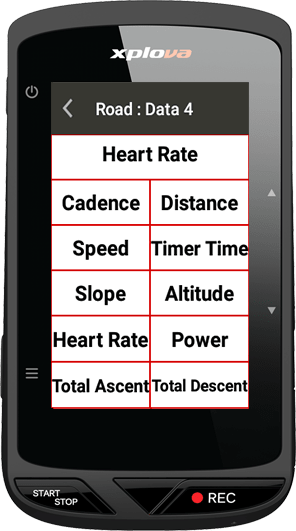 Customizable Data Fields

You are provided with 4 preset activity profiles to choose from, including road, downhill off-road, indoor, and leisure. Each of them has its own default data field, allowing for easy transitions for you when you switch cycling activity, such as road, mountain, or indoor training.
You can also reconfigure each of your activity profiles with the cycling metrics you prefer (e.g., heart rate, cadence, power, altitude, rate of climb).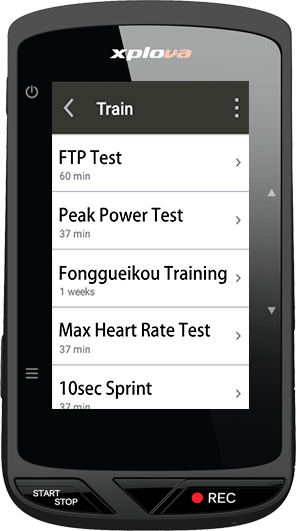 Free Access to
Professional Training Plans

X5 Evo gives you free access to training plans that are created by professional cycling coaches
Those workouts are also goal-specific, which gives you the flexibility to the free time you have available. You can upload them to your X5 Evo through the Xplova Connect App.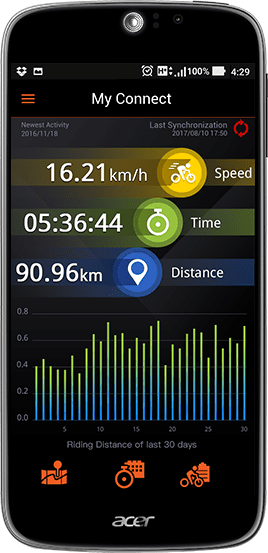 Instant Uploads to Strava and TrainingPeaks

Once you finish your ride, you can instantly upload your performance data to popular platforms (including Strava and TrainingPeaks) through the Xplova Connect App, so you can monitor your progress, analyze your data, and compare your rides against others'.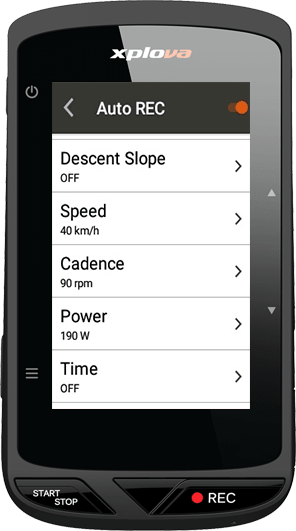 Data-Linked Auto Recording

You can set up auto-record triggers based on a number of parameters: speed, cadence, power, heart rate, ascent, descent, start, end, or SmartSign, with the options of 3/6/9/15/30 seconds of recording. Let X5 Evo do the job for you, just ride and enjoy the result.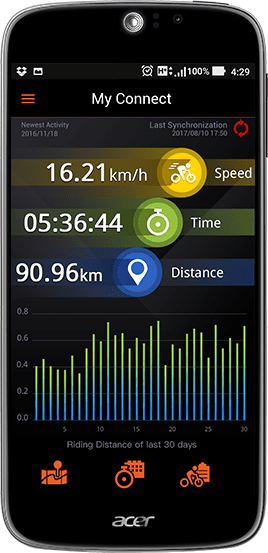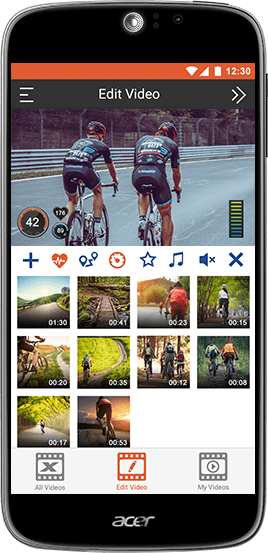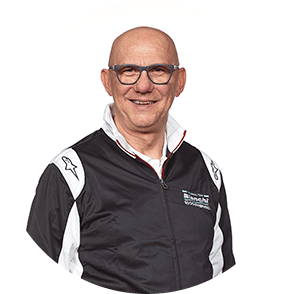 Massimo Ghirotto,
Bianchi Countervail Team Manager
It's a powerful and accurate tool, extremely valuable for both training and racing.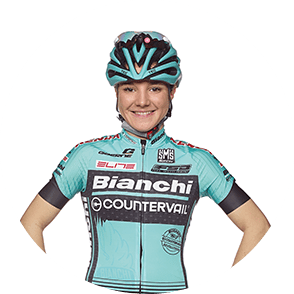 Chiara Teocchi,
Team Bianchi Countervail Rider
I'm enjoying it and I think it will further contribute to our team building.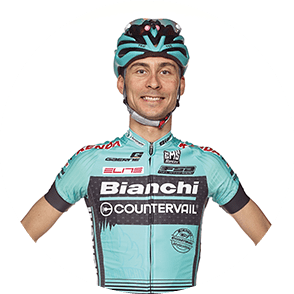 Stephane Tempier,
Team Bianchi Countervail rider
I use Xplova for every training.
Road CC.
- U.K. website for pedal powered poeple.
"There's nothing else like the Xplova on the market at the moment."

"Although you could mount a GPS and a dedicated camera to a single out-front mount for much of the same functionality,but not for a comparable total price."
Cycling Weekly
- UK's best-selling cycling magazine.
"There's a lot of functionality in the Xplova X5 Evo."

"The Xplova X5 Evo is easy to set up and use. It has a clear, effective touch screen and a lot of behind-the-scenes functionality."
Full Tech Specs
Display
3-inch, Trans-reflective type, with 240x400 pixels
Water Rating
IPX7 (Max. 1m under water for 30 mins, please ensure the SIM card door and Micro-SD door are properly closed)
Video Camera/Spec.
120 degree wide-angle camera with HD 720P@30fps
Internet Connection
Wi-Fi
GPS
High sensitivity GPS/GLONASS dual system
Memory
1G RAM/8G flash
Recording Modes
Support data-linked auto recording, time-lapse recording, loop recording and manual recording
Map
Support OSM maps/Xplova's website provides route planning and downloading services
Size and Weight
110 x 62 x 23 mm, 120g
Battery
Rechargeable Lithium Battery/1500 mah/ approximately 12 hours (Wi-Fi/Backlight off; GPS 3D-Fixed)
Input
5V Micro-USB
Languages
English, German, French, Italian, Spanish, Dutch, Danish, Thai, Japanese, Traditional Chinese, Simplified Chinese, Korean
Built-in Sensors
Temperature, Barometric Altimeter, Ambient Light
Support ANT+
HRM Chest Belt, Speed Sensor, Cadence Sensor, Combo (speed & cadence) Sensor XA-CS2, Power Meter, Shimano Di2
Package
Xplova X5 Evo, Extended Holder, Micro-USB Cable, Quick Start Guide, Warranty Card, Strap